Well, I have been absent from the blog world for the most part for the last 7 months, so I ought to catch you guys all up with what has been happening with our family.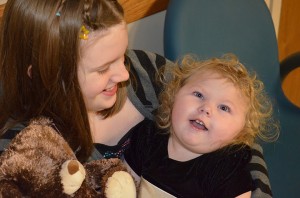 For years, every time my wife would hold a new baby I would ask her, Do you want another one of those? And her answer was always pretty vehement. "No!"
About a year and a half ago, a friend of ours brought over a baby that she was providing foster care for. My wife immediately fell in love with her, and our world began to change. I was always open to the idea of more children, although that was a bit of a surprise to my wife.
It was a long journey. We had to get a foster care license from the state. This required several day's worth of training, interviews, refurbishing of various parts of our home, and licensing and inspection. In our case, it also required a bit of remodeling to make a room for the new kid.
All of these actions where an interesting journey — We didn't know for sure what would happen. There is always a good chance that her parents would be able to comply with the state's requirements, and she would go home. In our minds, that would be a good outcome. But we had little doubt that it was our calling to open our home for this youngster be it for a week, or for a lifetime. Unlike many, having more children wasn't our motive. If this deal didn't work out, fostering or adopting other kids wasn't in our plan.
Once we got serious, It took us about 5 months to get all of our ducks in a row and to receive our license.
Last April we had a huge meeting with the state, and everybody in Lily's life. It was pretty amazing. There were probably 25 or 30 folks in the room, and it was determined that we would be her permanent placement. Her parents both indicated at that time that they wanted to pursue an open adoption agreement.
So Lily moved in with us in May of Last year. She was 17 months old. Raising Lily is quite different than raising most any other kid, because she has Cerebral Palsy and a slew of other medical issues that significantly inhibit her development. The doctors tell us that she is intellectually about 4 months old.  After almost a year, I still haven't managed to map out what works and what doesn't in her brain.  She pays good attention to people.  She does remember some sequences of events.   When I set her next to a one year old, and compare however, the contrast is pretty stark.
I sometimes joke that God killed off the Sin nature in this kid early. Most of the time, she seems to be a Phil 4:11 baby – "Content in all things" Not always, but darn close in comparison to most kids.  Especially now that she is in her "Terrible Twos"
Lily cries when she gets put in bed. She cries when startled by a sneeze or cough. Other than that she tends to smile. Her social skills are pretty darn high for her condition. She loves people, and she smiles and laughs in response to  interactions.
Working with the state is an interesting experience. There are layers and layers of workers — All working on the same issue from different angles. There is a Worker that watches over Lily, there is a worker that watches over the foster family. There is a worker that watches over the biological family. There is a worker that determines what the expenses and re-imbursement should be. There is a worker that does the licensing of the foster home. Once the baby moves into the adoption track, much of it starts over, and you have to re-submit the same paperwork, and the same fingerprints, and the whole process gets re-done again with new workers. The photo below gives you an idea of what happens. Everything that happens in the baby's life is recorded from 4 different angles — so within 6 or so months in state custody, you get a biography like this: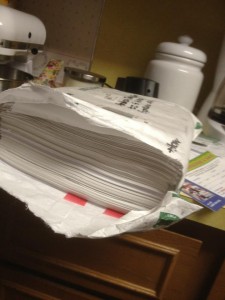 I have been out of town for much of the last 6 months on business, Commuting home on the weekends. So we had quite a bit of trouble getting all of the adoption process done. Amazingly, we did manage to get all of the work done, and we finalized the adoption on Dec 28th.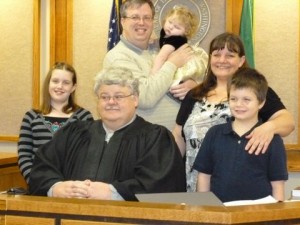 The road forward is an unknown. Lily is mostly healthy all things considered. Most medical opinions are rather bleak. Nobody expects her to walk, talk, or eat. She could live for decades, or she could get sick next week and catch a bad case of pneumoniaor have a seizure that could end her life.
Many people have asked me "Why risk the pain?" I tell them this — "If we were not involved the Lily's medical saga would likely take a path similar to what it will take with us here. Any tragedy would be a tragedy weather we are involved or not. All that we can do is do our best to inject love into the situation."
That sounds well and good, and it is true. It is also quite backwards. Lily is much better at loving than any of us are. She her joy is not dependent on circumstances. She rejoices over a silly dance. She appreciates stuff that we totally miss out on in the minutia of our day.
I think she likes me.
Her new Brother and Sister are pretty thrilled too.